In the summer heat your pup might find it difficult to keep cool.
You can make them one of these ice treats!
We have handpicked 4 of Haute Air's new puppy's favorites.
While being fairly easy to make…
These treats will keep your dog healthy, cool and hydrated!
1. Blueberries & Banana Frosty Paws
Mix some blueberries, banana and natural yoghurt in a blender for a simple treat.
All you gotta do is pop it into an ice-cube tray or doggy molds to make it even more fun.
Leave to freeze for approx. 3-4 hours and voila, a simple & healthy dog treat that's perfect for the Summer time.
Ingredients
1 cup of Blueberries
1 Banana
1 6oz Plain Yougurt
1 tsp of Flaxy Dog
Mix all the ingredients in a blender.
Pour into an ice cube tray or mold. Freeze it for about 2 hours.
Note that blueberries are  safe for your dog to eat however
they should only be fed in small amounts to avoid an upset tummy.
We'd recommend no more than 2-3 cubes per day.
2. Apple Cubes
This recipe consists of only two ingredients and could not be any more simple to make.
You'll need chicken broth and apples.
Simply chop up your apples and dilute your low sodium chicken broth, mix together in an ice-tray and freeze.
3. Pumpkin Cubes
This is just 1 ingredient and that's pumpkin, pumpkin in all it's amazing glory.
You'll need 100% pumpkin either from a tin or puree your own, fill up your ice-tray and leave for a few hours.
Not only is pumpkin full of vitamin E but it also helps with any upset tummies so it's always good to keep some stashed away in the freezer!
4. Tropical Pupsicle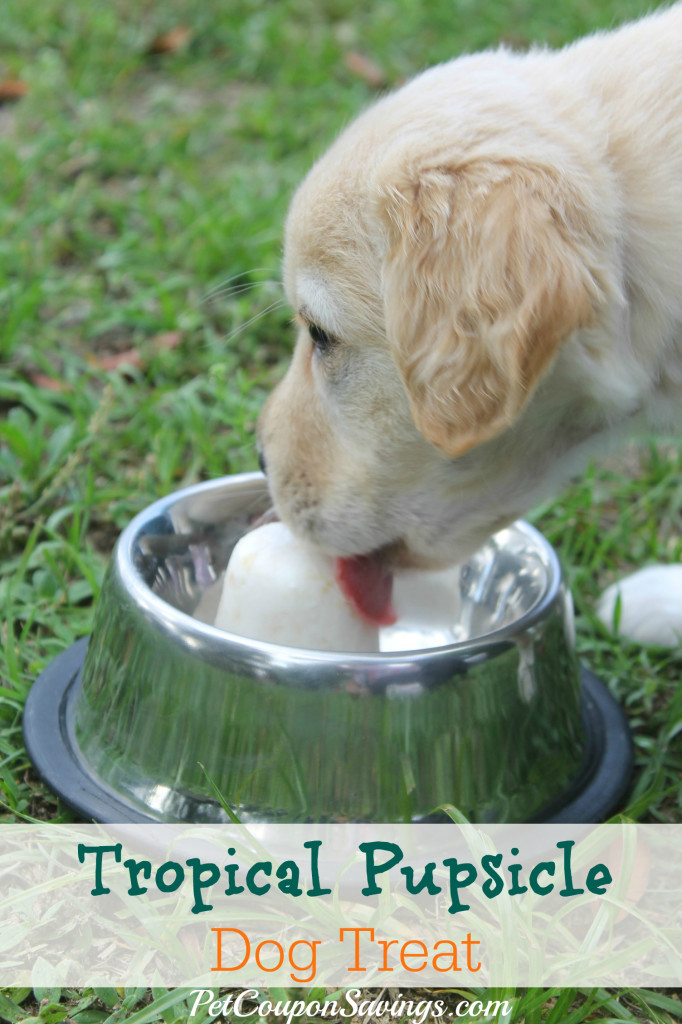 This sweet treat is made from banana, coconut water and coconut yoghurt.
Here is what you will need..
1 Banana
1 6 oz. Container Yogurt
½ cup Coconut Water
Paper Water Cups (Dixie)
Completely mash your banana and add in the coconut water & yoghurt and leave to freeze in a paper cup.
Once frozen you can serve to your pooch in it's bowl.
This is super healthy and can be enjoyed by both pooch and human.